나운영 Mélodie coréenne "Psaume 23" 여호와는 나의 목자시니 par Mi-kyung Kim 김미경
15199
6
36
04.05.2008
159053
279
41
04.05.2008
FR
여호와는 나의 목자시니 - Mélodie coréenne de Woon-Young Na (나운영) sur le texte du Psaume 23, Le Seigneur est mon berger, interprété par la chanteuse soprano lyrique coréenne Mi-kyung Kim (김미경, 🤍soprano.lyrique.org) lors d'un concert pour Trans-Forme, l'Association Fédérative Française des Sportifs Transplantés et Dialysés (🤍🤍trans-forme.org). Ce concert a été donné en l'église Saint Martin de Savigny sur Orge. Mi-kyung est accompagnée au piano par son amie et complice, la pianiste géorgienne Olga Bakhutashvili. Pour soutenir le travail artistique de Mi-kyung, vous pouvez aimer sa page Facebook de fans sur 🤍🤍facebook.com/soprano.mikyung.kim. Vous pouvez également vous procurer ses albums CD sur 🤍shop.lyrique.org
Кадры из видео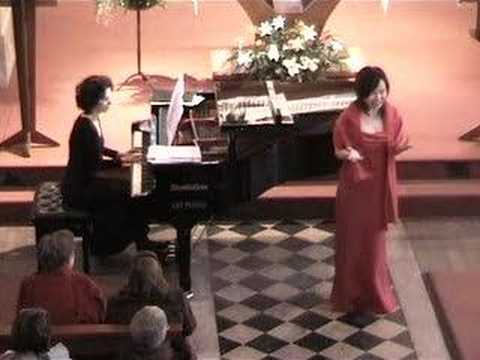 Комментарии пользователей:
strangenessandcharms
2014-11-27 19:15:31
beautiful. :')
steakopera
2010-03-19 22:15:58
Amen. Awesome technique and beautiful voice.
tasha q
2009-11-20 18:34:46
This song is so beautiful, it brings tears to my eyes. I'd love to hear her sing it in English.
Gilles Verreault
2008-06-11 03:59:28
bravo kim again...nice song...nice chuch..song is excellent..in my book korea has 3 winners(kim,kia and hyundai)bravo..a quand un concert au quebec Canada!